History of Media Law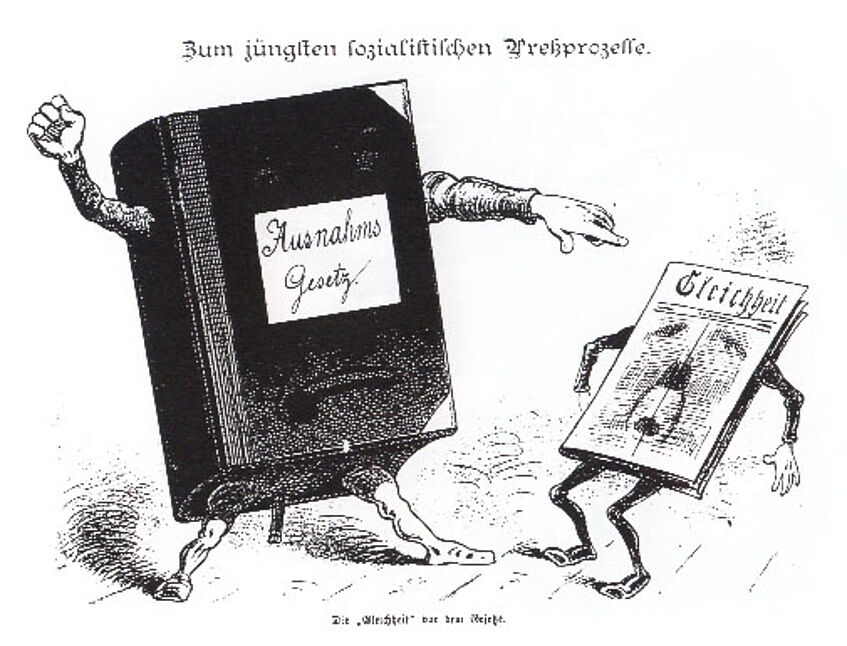 History of Media Law
The history of media law is an interdisciplinary field of research that can be approached from the perspective of jurisprudence, history, or media studies.
My habilitation thesis, "The Development of Press Law in Austria up to 1918," approved in 2003 and published in 2004, dealt with the period when the media landscape was dominated by the print, or secondary, media. I have plans to publish on history of media law after 1918, which will require investigation of the legal history of tertiary (radio, television) and quaternary media (Internet).

I maintain a separate homepage about my research in this field which also contains the full texts of the most important Austrian censorship and press laws between 1781 and 1902.
Relevant Publications
A) Monographs
1. Die Entwicklung des Preßrechts in Österreich bis 1918. Ein Beitrag zur österreichischen Medienrechtsgeschichte


Wien: Manz 2004. XXIV + 736 Seiten [online]
B) Essays
12. Die Bücherzensur(hof)kommission


In:

Michael Hochedlinger/Petr Maťa/Thomas Winkelbauer

(Hrsg), Verwaltungsgeschichte der Habsburgermonarchie in der Frühen Neuzeit. Band 1: Hof und Dynastie, Kaiser und Reich, Zentralverwaltungen, Kriegswesen und landesfürstliches Finanzwesen. Teilband 1, Wien: Böhlau 2019, 615–621


11. Staatsanwaltschaft und Presserecht


In:

Gerald Kohl / Ilse Reiter-Zatloukal

(Hrsg), "...das Interesse des Staates zu wahren". Staatsanwaltschaften und andere Einrichtungen zur Vertretung öffentlicher Interessen. Geschichte, Gegenwart, Perspektiven, Wien: Verlag Österreich 2018, 63–76

10. Die österreichische Zensur im Vormärz


In:

Gabriele B. Clemens

(Hrsg), Zensur im Vormärz. Pressefreiheit und Informationskontrolle in Europa (= Schriftenreihe der Siebenpfeiffer-Stiftung 9), Ostfildern: Jan Thorbecke Verlag 2013, 139–152


9. Die behördliche Einstellung der "Pädagogischen Blätter" 1936. Schulpolitik, Presserecht und Verwaltungsgerichtsbarkeit in der Zeit des Autoritären Ständestaates


In: Beiträge zur Rechtsgeschichte Österreichs 2011, 253–274 [online]

8. Lawmaking Procedure under the Rule of the February Patent: The Austrian Press Act 1862 between the House of Lords and the House of Deputies


In: Jean Garrigues et al (eds.) Actes du 57e congrès de la CIHAE: Assemblées et parlements dans le monde, du Moyen-Age à nos jours, Paris: Assemblée nationale 2010, 581–590
[online]

7. Rechtshistorische und demokratietheoretische Bemerkungen zum Wirkungskreis der Geschworenengerichte


In:

Magdalena Habdas / Arkadiusz Wudarski

(Hrsg), Ius est ars boni et aequi. Festschrift für Stanislawa Kalus, Franfurt et al: Lang 2010, 347–359

6. Grundrechte und ihr Schutz in der Habsburgermonarchie


In: Österreichische Richterzeitung 2010, 30–37
Auch erschienen in:

Gabor Máthé / Werner Ogris

(Hrsg), Die Habsburgermonarchie auf dem Weg zum Rechtsstaat? (Budapest: Magyar Közlöny Lap 2010) 264–291


5. Zur Zensur am Ende des 18. Jahrhunderts. Dichter als Zensoren


In:

Franz M. Eybl / Johannes Frimmel / Wynfried Kriegleder

(Hrsg), Aloys Blumauer und seine Zeit (= Jahrbuch der Österreichischen Gesellschaft zur Erforschung des 18. Jahrhunderts 21), Bochum: Winkler Verlag 2007, 135–143

4. Zensur und Presserecht in der Habsburgermonarchie zur Zeit des Neoabsolutismus


In:

Karel Schelle / Ladislav Vojá?ek

(Hrsg), Stát a právo v letech 1848-1918 ve st?edoevropském kontextu [Staat und Recht von 1848 bis 1918 im mitteleuropäischen Kontext], Bratislava: BVŠP 2007, 172–178


3. Das Preßrecht der Habsburgermonarchie 1848–1918


In:

Helmut Rumpler / Peter Urbanitsch

(Hrsg), Die Habsburgermonarchie VIII: Politische Öffentlichkeit und Zivilgesellschaft, Wien: Verlag der Österreichischen Akademie der Wissenschaften 2006, 1493–1533


2. Über Frei-, Pflicht- und Probeexemplare


In: Mitteilungen der Vereinigung Österreichischer Bibliotherkainnen & Bibliothektare 58 (2005) Heft 3, 41–48


1. Der Katalog der verbotenen Bücher. Kommunikationsfreiheit und Zensur unter Maria Theresia


In:

Harald Heppner / Alois Kernbauer / Nikolaus Reisinger

(Hrsg), In der Vergangenheit viel Neues. Spurensuche aus dem 18. Jahrhundert ins Heute, Wien: Braumüller 2004, 21–24
(= BRGÖ 2019/2,

hg. gemeinsam mit Michael Gehler, Stefan Wedrac u. Anita Ziegerhofer

)
Wien: Verlag der ÖAW 2019, 272 Seiten