Welcome to the Department for Legal and Constitutional History
The Department for Legal and Constitutional History is part of the Law Faculty at the University of Vienna. It has a long and successful history that dates back more than 150 years. The Departments roots can be traced back to 1851, when George Philipps was appointed as professor of History of the German Empire and German Law. Since 1951, a variety of reforms have taken place, reshaping both the Department and the curriculum of legal studies at the University of Vienna.
Today, the Department aims to further modernize the History of Law as a subject, and to introduce new generations of law students to Legal and Constitutional History.
For further information on the Department's history, please access the following link.
News
Gastforscher aus Chile im Juni und Juli am Institut
Der em. Professor Dr. Bernardino Bravo Lira der Universidad de Chile hält sich zum Zweck von Forschungen über "Entstehung und Zerfall der Nationalstaaten nach Zusammenbruch der Ibero-Amerikanischen Monarchie bzw. der Habsburgermonarchie" am Institut auf.
"ProfessorIn aus Leidenschaft 2018" für Ilse Reiter-Zatloukal
Ao. Univ.-Prof.in Dr.in Ilse Reiter-Zatloukal wurde am 20. März 2018 der Preis des Studierendentitels "ProfessorIn des Jahres 2018" in der Kategorie "Professorin aus Leidenschaft" verliehen. Der Preis wird einmal jährlich von der Fakultätsvertretung Jus, im Namen der Studierenden, verliehen.
"Doc-Award" für Kamila Staudigl-Ciechowicz
Univ.-Ass.in Mag.in Dr.in Kamila Staudigl-Ciechowicz LL.M. wurde am 12. März 2018 für ihre Dissertation "Das Dienst-, Habilitations- und Disziplinarrecht der Universität Wien 1848–1938. Eine rechthistorische Untersuchung zur Stellung des wissenschaftlichen Universitätspersonals" mit dem DocAward der Universität Wien ausgezeichnet. Der Preis wird einmal jährlich vom Rektorat für herausragende Dissertationen verliehen.
Neu Erschienen:Die Wiener Stadtbücher 1395–1430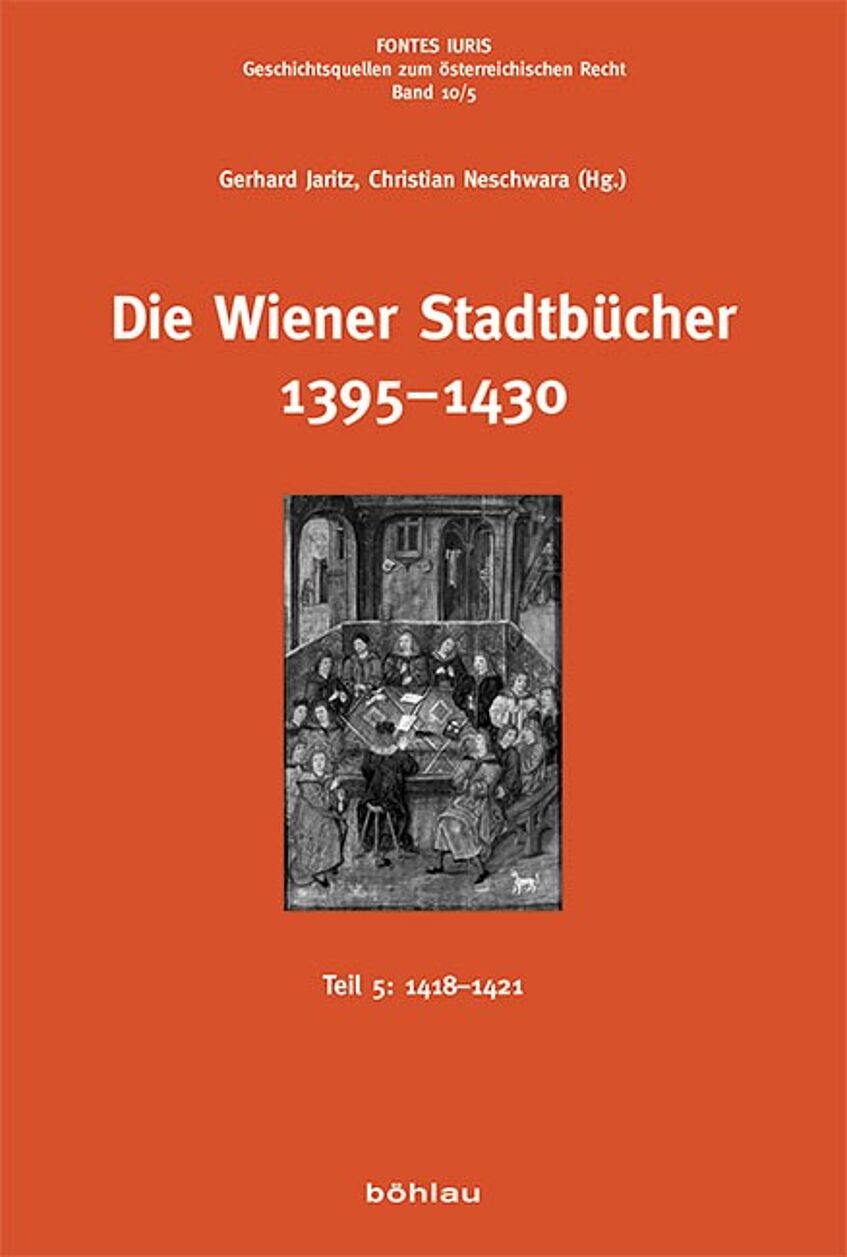 Neu Erschienen:Die Wiener Stadtbücher 1395–1430
Teil 5: 1418–1421
Gerhard Jaritz / Christian Neschwara
2018, Böhlau Wien
ISBN: 978-3-205-20443-5
464 Seiten